Apple's iPhone 6s & 6s Plus with 3D Touch
Posted by Ryan Mac Hollywood on
Apple's iPhone 6s & 6s Plus with 3D Touch
Last year's iPhone 6 and 6 Plus introduced a larger, slimmer form factor housing higher resolution Retina HD screens and improvements in processors, cameras and wireless. While Apple's latest 6s and 6s Plus models look virtually identical, the company has significantly improved nearly every key feature, from a stronger glass and metal exterior outside to high-performance components inside, including a new pressure sensitive 3D Touch display.



iPhone 6s models deliver five major categories of enhancements over Apple's bestselling iPhone 6 (which was already both the world's top selling iPhone and top selling smartphone): a new 3D Touch digitizer, paired with a Taptic Engine actuator, enables a new level of pressure sensitive, multitouch interaction backed with intuitive haptic feedback; a vastly improved A9 Application Processor providing enhanced speed and battery efficiency, paired with 2GB of RAM and a variety of integrated engine enhancements; new iSight and FaceTime cameras for sharper photos and 4K videos; enhanced wireless that supports faster, feature-enhanced LTE Advanced mobile and MIMO WiFi; and a stronger, more liquid resistant glass and aluminum body that makes 6s models more rigid and durable, without being significantly larger or heavier. 

The two new 6s/6s Plus models continue to sell alongside last year's 6/6 Plus, which are now $100 less (starting at $550), as well as the A7-powered iPhone 5s, which is now $450 or "free on contract." The clear differentiation between the smaller 5s and middle tier 6 models has eliminated a role for iPhone 5c, which is no longer being sold by Apple.

In addition to their new features, iPhone 6s and 6s Plus also stand apart as the only models offering 128GB capacities (iPhone 6 is available only in 16 and 64GB versions, while iPhone 5s maxes out at 32GB), and are Apple's only handsets currently offered in yellow or rose gold.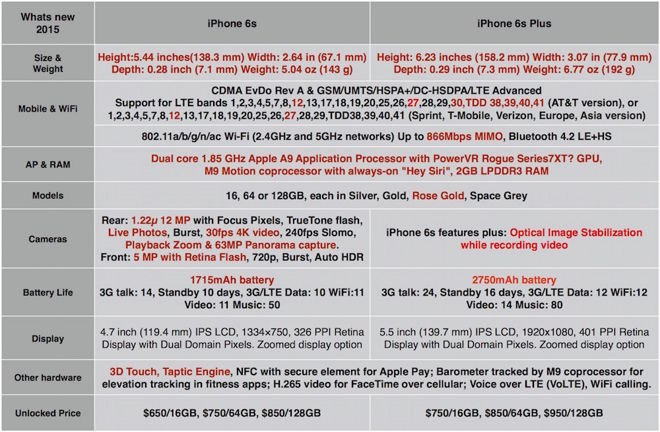 What's new #1: 3D Touch Retina HD Display with Taptic Engine


After giving its eighth generation iPhone 6 a larger, higher resolution Retina HD Display last year, Apple has now turned its attention toward enhancing the usability of multitouch rather than simply bumping up pixel count and screen size, as most competitors have been doing at regular intervals (between tacking on forgettable gimmicks as 3D visuals and curved screens). 

Apple's implementation of 3D Touch is more than just screen pressure sensitivity and some user interface extensions. It is particularly well conceived in that it delivers real benefits in speeding up navigation and adding dimension to multitouch gestures while also being unobtrusive by way of its intuitive feel. 

Anyone who doesn't like it can turn if off or tone it down, but in our experience, 3D Touch is both usefully appealing and fun to use. The feature is reminiscent of Force Touch, which debuted on Apple Watch last fall; it similarly borrows the extremely precise Taptic Engine to deliver vibratory feedback that's so expertly timed that "vibration" just seems too sloppy of a word to describe it.


3D Touch Quick Actions


3D Touch on the new 6s models enables launching deep-linked features within apps (called Quick Actions, depicted above), quickly perusing or opening documents or other content such as emails (referred to as Peek and Pop, depicted below) and adding a layer of depth in apps ranging from Notes' pressure sensitive doodles to video games that can sense the difference between a tapped touch and a harder press.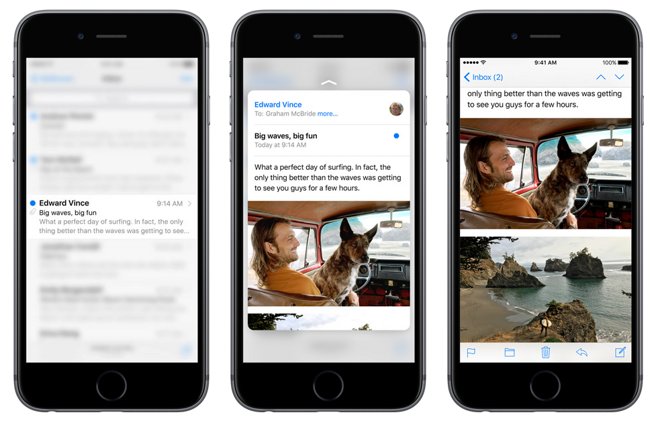 3D Touch Peek and Pop


Like the original Multitouch screen on Apple's first iPhone from 2007, 3D Touch is designed to feel so natural and intuitive that it doesn't impose a learning curve. It's effortlessly easy to pick up begin using, and it doesn't string you along a gimmicky path toward failure (like Samsung's hand waving navigation or Google's face unlock or Amazon's face tilting parallax). 

If you try 3D Touch on a UI element that doesn't yet offer support, iPhone gives a brief haptic cue in acknowledgement. There are areas (particularly among third party apps) where 3D Touch doesn't do anything yet. But even among Apple's own titles, there are lots of opportunities for Quick Actions and Peek and Pop style interaction that currently don't do anything. That is likely to change quickly, as a variety of developers, including Twitter and Instagram, have already jumped to add Quick Actions to their apps. 

One drawback to 3D Touch: the new layer of digitizer sophistication adds weight and size to the phone. Fortunately it's quite a slight difference. If you directly compare a 6 Plus and 6s Plus, you might notice a subtle change in weight (0.7 ounces or 20 grams). The smaller iPhone 6s has even less of a weight gain (less than half and once, or about 12 grams). Both phones are also 0.2mm thicker than last year, a difference of 1/100th of an inch.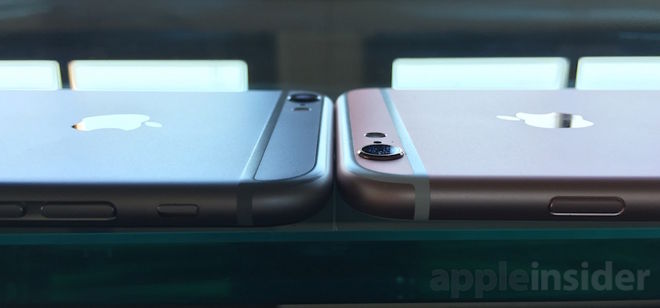 iPhone 6s Plus on right is slightly thicker than last years 6 Plus model


Standard iPhone 6 cases continue to fit, and without doing a direct comparison it is hard to notice any real difference in weight or size. It appears Apple worked hard to make the addition of 3D Touch as invisible as possible, despite being one of the marquee features of the new iPhone 6s.

By Daniel Eran Dilger 
Thursday, October 01, 2015, 05:46 am PT (08:46 am ET)
---
Share this post
---
---
---
0 comment