How to protect your MacBook Pro
Posted by Ryan Mac Hollywood on
Portable computers excel at many things: They're lightweight, they have great battery life, and they're much easier to fit into a backpack than an iMac. But in being so mobile, they're also much more susceptible to dings, falls, smudges, and—worst of all—drink spills. Here's how to keep your laptop fit and functional.
Protection in the bag 
As you frantically dash from one class, event, or party to another, your methods of putting away your laptop and its power cord may be frantic, too.
Backpack buffer To save your poor computer from being crushed between a full load of "Intro to Psych" books and the sharp edges of your keys, outfit it with one of Moshi's iGlaze cases (11- and 13-inch MacBook Air; $60). Each case consists of two ultrathin plastic covers for the top and bottom of your computer that snap right on and keep it shielded from incidental scars and scratches. The case comes in translucent, white, and black, too, so you can choose the style that suits you.
Protection at the desk
If you're the typical laptop lugger, you type everywhere: at the library, on the lawn, at the dining hall, and quite possibly at 3 a.m. in the morning while munching popcorn. As such, it's not unlikely that your keyboard will get gummy, your screen smudged, and your ports dirty.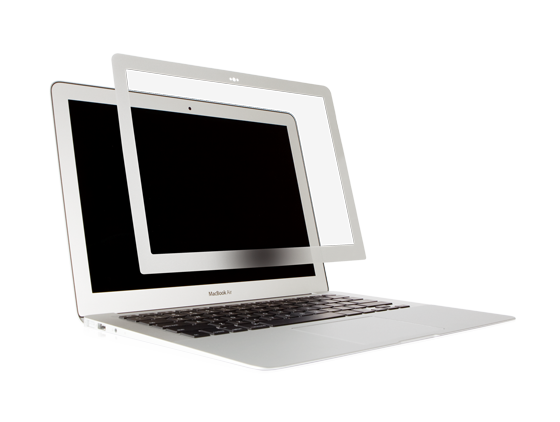 Cover ups If you hate cleaning—you can largely avoid the mess with a good screen, keyboard, and case protector. Moshi's line of film protectors is especially great for this purpose: The company makes antiglare screen protectors for both the MacBook Air and MacBook Pro($37), clear Keyboard protectors, and a palm and trackpad protector.
Prevention with pizzazz If you prefer to protect your laptop while personalizing it, check out the new slim Designer Series from KB Covers (13-inch MacBook Air, MacBook Pro models). The company offers keyboard covers adorned with doves, dalmatians, roses, the American flag, and more. For those majoring in film, photography, or sound design, KB Covers also makes a series of protection overlays that list shortcuts for popular applications such as Final Cut, Photoshop and Pro Tools.
Cleaning supplies If it's already too late for your laptop, a little investment in cleaning supplies will help you wipe away the mess. Juce™ Screen & Device Cleaner is the ultimate electronic cleaner and polish. Not only does Juce cleaner remove mean and pesky stains and oils from all screens, but it also polishes the surfaces of ALL electronics. Best of all, Juce cleaner has an organic green apple scent. One application of Juce will have your computer clean and your home or office smelling great too! A can of compressed air can help you blow away any dirt or dust in the ports or any crumbs stuck between the keyboard keys.
---
Share this post
---
---
---
0 comment